Registered Boer Goat Sale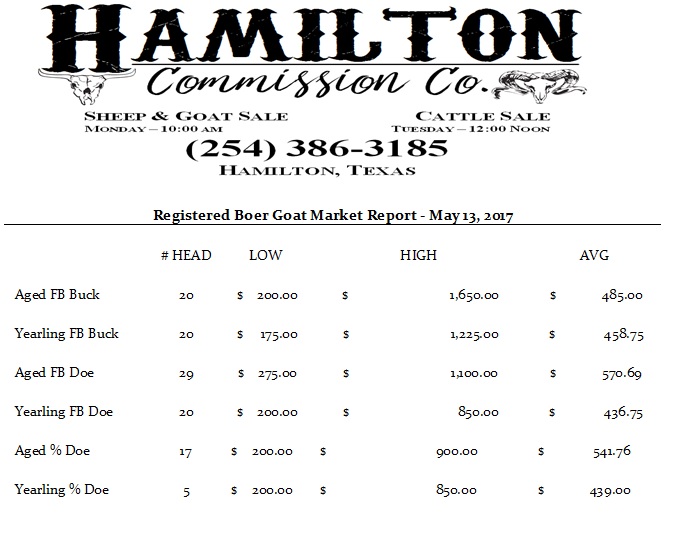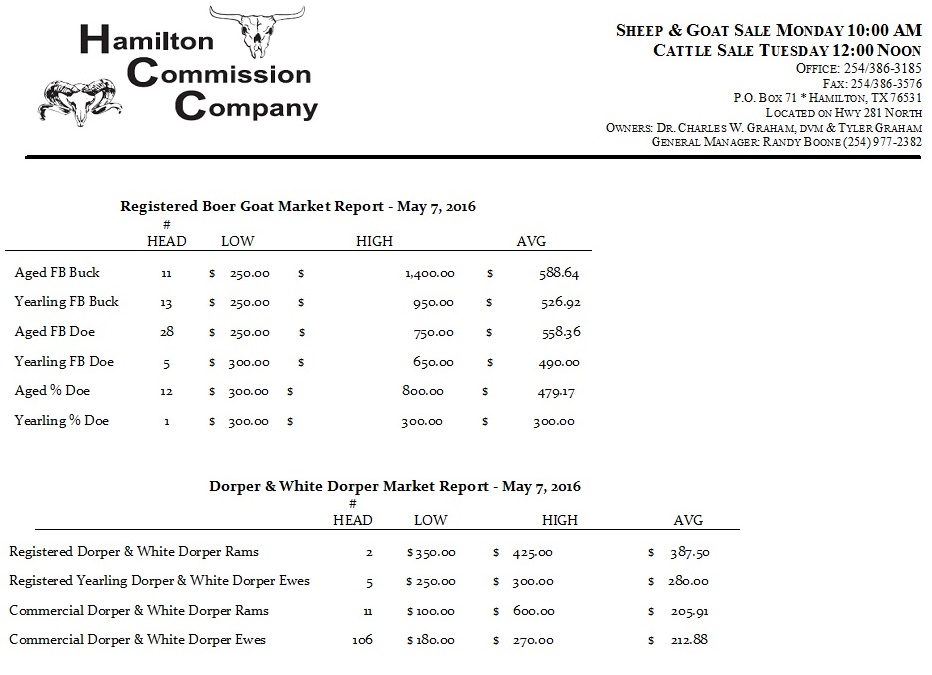 Registered Boer Goat Market Report – September 19, 2015 
# HEAD
LOW
HIGH
AVG
 Aged FB Buck
20
 $  150.00
 $    925.00
 $  432.75
 Yearling FB Buck
45
 $  175.00
 $ 1,075.00
 $   338.11
 Aged FB Doe
27
 $  150.00
 $  1,150.00
 $  385.19
 Yearling FB Doe
53
 $  100.00
 $    975.00
 $  311.60
 Aged % Doe
13
 $  150.00
 $   700.00
 $ 278.85
 Yearling % Doe
20
 $  125.00
 $    550.00
 $  215.25
 Dorper & White Dorper Market Report – September 19, 2015 
# HEAD
LOW
HIGH
AVG
 Registered Aged Dorper & White Dorper Rams
14
 $    200.00
 $ 900.00
 $ 467.86
 Registered Yearling Dorper & White Dorper Ewes
33
 $    150.00
 $ 950.00
 $ 450.45
 Commercial Dorper & White Dorper Rams
10
 $    100.00
 $ 200.00
 $  149.00
 Commercial Dorper & White Dorper Ewes
111
 $    130.00
 $  275.00
 $  189.55
 May 9, 2015 Registered Boer Goat Sale Market Report
#
 Lowest
 Highest
 Average
 FB Aged Bucks (1 yr – 4 yrs)
42
 $       160.00
 $   2,200.00
 $ 485.93
 FB Yearling Bucks
7
 $       160.00
 $      800.00
 $  357.14
 FB Aged Does (1 yr – 4 yrs)
38
 $       130.00
 $    1,000.00
 $  446.18
 FB Yearling Does
17
 $       310.00
 $    1,000.00
 $  548.53
 % Does
25
 $       180.00
 $      750.00
 $ 326.00
May 9, 2015 Hair Sheep Special
#
Low
High
Avg
Purebred Rams
6
 $      200.00
 $      675.00
 $  429.17
PB Ewes
5
 $       275.00
 $      300.00
 $ 305.00
Commercial Rams
6
 $      250.00
 $      400.00
 $  316.67
Commercial Ewes
160
 $      200.00
 $      250.00
 $  223.84
Registered Goat Guidelines:
Animals are required to be 4 years of age or younger with registration papers. We will accept and sell kids on application if they are under 1 year old. We must have all the papers e-mailed to office@hamiltoncommissioncompany.com or faxed to 254.386.3576 at least two weeks before the sale date. Please consign in the name you want the selling check made payable to and include a phone number. Also, make sure all papers sent to us have the correct ear tag number and/or tattoo.
The sale order will be determined by the DATE OF CONSIGNMENT on a first come, first served basis. 
Animals must be at the Hamilton Commission Company by 5pm on the Friday night before the sale date.
 

Registered Boer Goat Market Report – September 20, 2014

 

 

# HEAD

LOW

HIGH

AVG

 

Aged FB Buck

 

13

 

$ 200.00

 

$ 1,200.00

 

$ 434.23

 

Yearling FB Buck

 

35

 

$

 

110.00

 

$

   

875.00

 

$

 

276.71

 

Aged FB Doe

 

28

 

$

 

175.00

 

$ 1,500.00

 

$ 350.89

 

Yearling FB Doe

 

62

 

$

 

125.00

 

$

  

800.00

 

$

 

305.16
Market Report for September 14, 2013
| | | | | |
| --- | --- | --- | --- | --- |
|   | # Head | Low | High | Avg |
| Aged FB Bucks | 14 | $120.00 | $450.00 | $192.86 |
| Yearling FB Bucks | 48 | $50.00 | $1,700.00 | $182.92 |
| Aged FB Does | 34 | $140.00 | $1,350.00 | $369.12 |
| Yearling FB Does | 69 | $75.00 | $500.00 | $173.62 |
Market Report for May 25th, 2013
| | | | | |
| --- | --- | --- | --- | --- |
| | # HEAD | LOW | HIGH | AVG |
| AGED FB BUCKS | 13 |  $  120.00 |  $    950.00 |  $         423.85 |
| YEARLING FB BUCKS | 8 |  $  130.00 |  $    500.00 |  $         266.25 |
| AGED FB DOES | 54 |  $  130.00 |  $ 1,000.00 |  $         283.43 |
| YEARLING FB DOES | 20 |  $  190.00 |  $ 1,200.00 |  $         332.00 |
Hair Sheep Guidelines:
We sell both registered and commercial sheep in this special sale. We will sell the registered sheep followed by the commercial sheep. Please contact the office to consign your sheep! (254) 386-3185