McAnelly & Friends Dorper & White Dorper Sale
2018 SALE – TBA
_______________________________________________________________________________________________

Join us on Friday and Saturday, August 25th and 26th for McAnelly & Friends Annual Dorper and White Dorper Seminar, Social, and Sale. Hamilton Commission Company and Craig Jones of Capra Foods are joining Hamilton Sheep Station to put on a 2-day affair.
SEMINAR: Beginning at 2pm on Friday, August 25, 2017, we will have a Seminar which focuses on all the different lamb markets. Featured Speakers:
Bill Thompson – Assistant Professor and Extension Economist, Texas A&M AgriLife Extension Service. Managing Finances – Management Tools to increase your Flock's Profit.

Laura Celella – North Texas Seed Stock Producer. Producing Quality Rams and Ewes for Breeding Purposes.

Lee Hawes – Kansas Commercial Producer, supplier to Craig Jones of Prime Fresh Foods, Inc. Improve your Commercial Flock Using Good Dorper Rams.

Coltin Black – Producing Show Market Lambs for 4-H and FFA Youth.

Sarah Fung – Small Producer. Selling Lambs Directly to the Consumer's Table and/or Farmer's Market.

Craig Jones – Owner, Prime Fresh Foods, Inc. Buying 90-110 lb. Lambs and Supplying Restaurants and Grocery Food Chains.

Derek Poe – General Manager of Hamilton Commission Company. Marketing your Sheep through Public Auction.
SOCIAL: At 7pm on Friday, August 25th, you are invited to join us for a social evening at one of the old farmsteads for Hamilton Sheep Station. There will be live music for entertainment. Then, a tasty supper will be provided by Capra Foods. Everyone should be in a good mood to catch up on some visiting. Please R.S.V.P. 254-372-3112 if you plan to attend the Social. Call Jolene if lost: 903-517-1722.
SALE: Then, on Saturday, August 26th, the Annual Dorper and White Dorper Sale will be held at Hamilton Commission Company beginning at 11am, starting with Commercial Ewes, then Registered Ewes, and followed by Registered Rams. According to last years statistical report, the 2016 sale was very well represented: 123 Active Buyers, 21 Out-of-State Buyers, and over 1,000 head of QUALITY Sheep ~ 800 Commercial Ewes (Top Ewe Sold for $625), 160 Registered Ewes (Top Ewe Sold for $4,900), and 40 Registered Rams (Top Ram Sold for $2,600).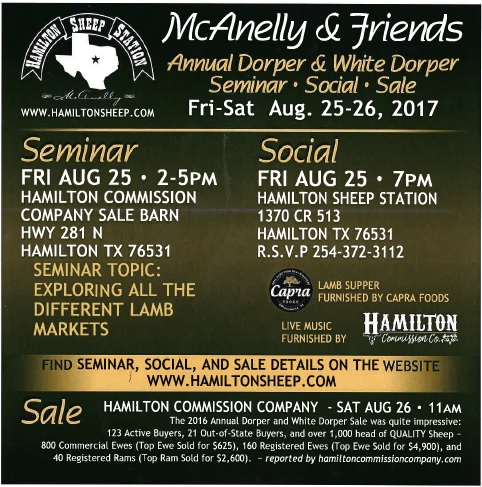 Commercial Consignments Include:
100 White Dorper Ewe Lambs – Turned McAnelly rams in on May 1st
250 White Dorper Ewe Lambs
200 White Dorper Ewe Lambs – all females are out of McAnelly Rams. ~130 ewes have been running with McAnelly Rams, ~60 will be open.
50 Dorper Ewe Lambs – been running with McAnelly rams for 3 months.
40 Dorper & White Dorper Ewe Lambs
50 Dorper & White Dorper Ewe Lambs

25 Yearling White Dorper Ewes
25 Yearling Dorper Ewes
30 White Dorper Ewe Lambs – 80#
25 Baby Tooth Dorper Ewes
12 Dorper Ewe Lambs
10 2-3 Year Old Dorper Ewes
25 Dorper Ewes
10 White Dorper Ewe Lambs
15 White Dorper Ewes
12 Ewes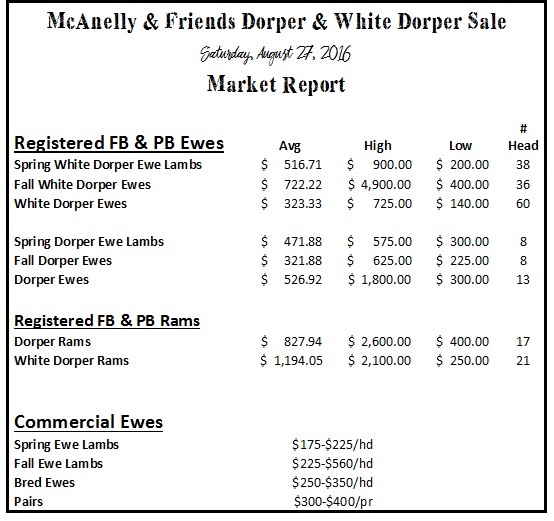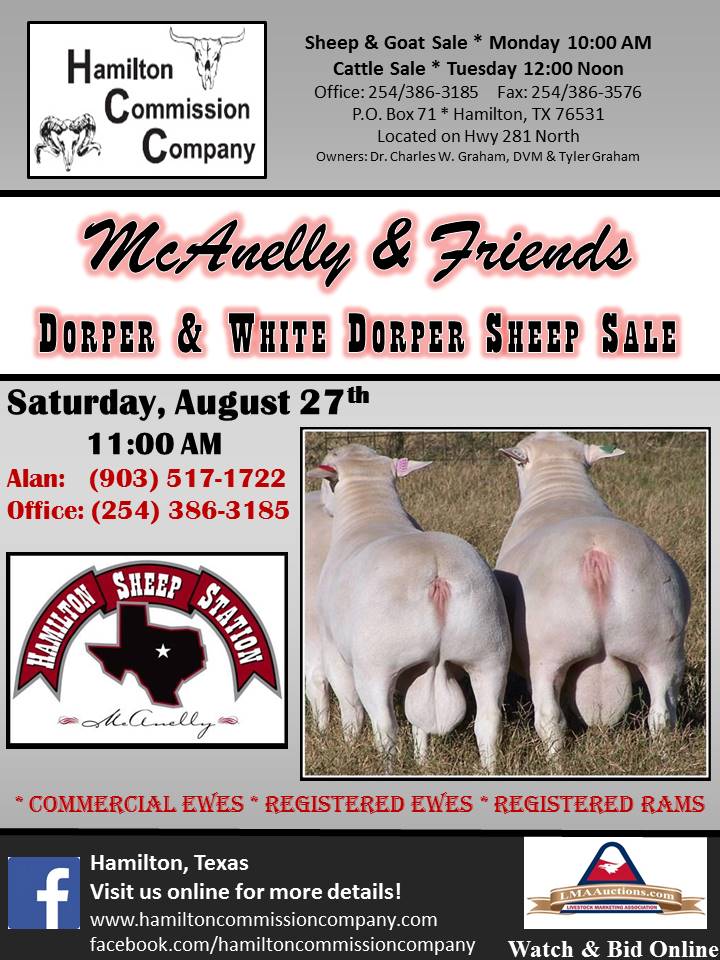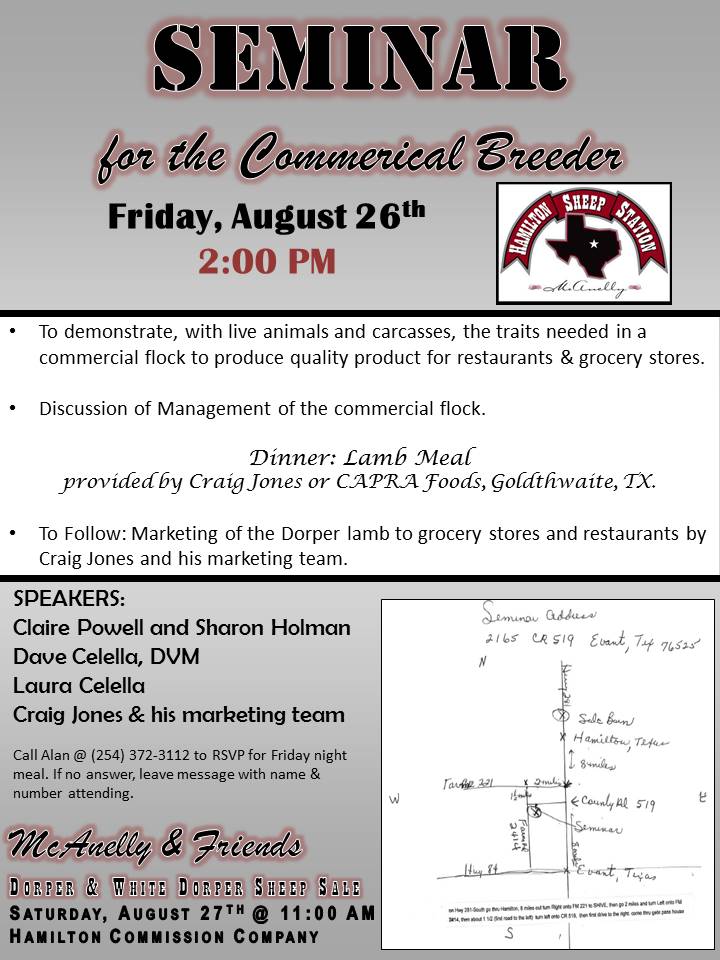 We are expecting ~100+ Registered Ewes, ~40 Registered Rams and 400-500 commercial ewes.
It's going to be a great sale!
Here are some of the FRIENDS that have consigned to the sale:
Wayne & Cheryl Cash
Dave & Lauri Celella
Huntis Black
Philip & Kay Davis
Wesley Glass
James Hurst
Sharon Holman
Claire Powell
Vince Kirchner
Judy McDonald
Jason & Patty Partin
Glenn Stegemoller
Monroe Schultz
Glenn & Linda Taylor
Edie McDaniel
Woody Family
Bille & Elaine Watson
Marie Iiams, Missouri
John Holiday, Kentucky
Tommy Smith, Georgia
Dr. Phillip Padgett, Kentucky
Fall 2015 Registered White Dorper Ewes Consigned by Dr. Alan McAnelly
Spring 2016 Registered White Dorper Ewe Lambs – Consigned by Dr. Alan McAnelly
61 Registered White Dorper Ewes consigned by Dr. Phillip Padgett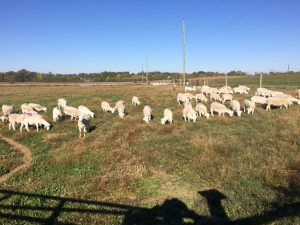 ~100 Fancy, bred commercial ewes
~ 50 Commercial Ewes – some heavy bred, some with lambs @ their side
20 Commercial White Dorper Fall Ewes – Exposed April 1st- June 1st
20 Commercial White Dorper Ewe Lambs