2015 ROPING CATTLE SALES:
Saturday, June 13th          *                    Saturday, October 10th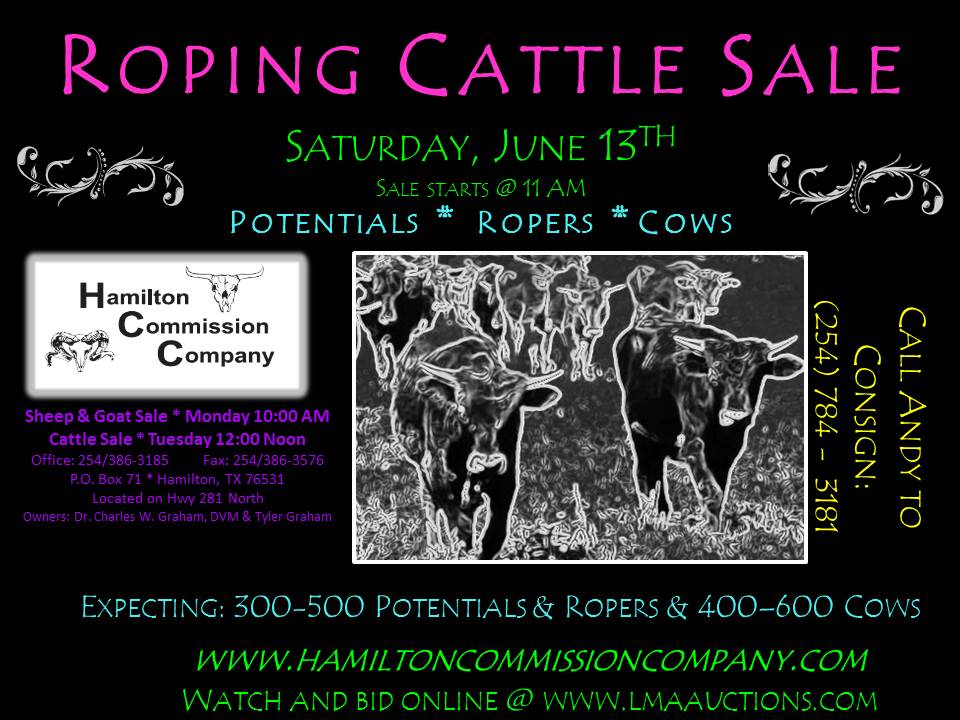 Y'all asked for it, so here it is! Our first Roping Cattle Sale of the year was such a success, we decided to do it again!
All buyers MUST be preregistered to buy. Please contact the office to get approved!
Early Consignments Include:
* 100 Young Corriente Cows – all off 1 ranch
* 70 Corriente -Longhorn X Bred Cows
* 30 Longhorn – Corriente X Hiefers- Been running with black Corriente bulls for 60 days
* 100 Corriente Heifers – Ready to Rope (R2R)
* 50 Longhorn Ropers – Steers & Heifers
Hamilton Commission Company
Roping Cattle Sale
Saturday, April 4, 2015
 MARKET REPORT
1950 HEAD
92 CONSIGNERS, 290 ACTIVE BUYERS
POTENTIALS & ROPERS
CORRIENTES
STEERS / BULLS– READY TO ROPE……………………………$1,250-$1,500 HD
HEIFERS – READY TO ROPE…………………………………….$1,200-$1,375 HD
POTENTIALS – HORNS ½ EAR & LONGER…………………….$900-$1,150 HD
POTENTIALS – HORNS LESS THAN ½ EAR……………………$800-$1,000 HD
LONGHORNS
STEERS / BULLS – READY TO ROPE……………………………$1,000-$1,150 HD
HEIFERS – READY TO ROPE……………………………………..$1,050-$1,275 HD
POTENTIALS – HORNS ½ EAR & LONGER…………………….$750-$900 HD
POTENTIALS – HORNS LESS THAN ½ EAR……………………$600-$800 HD
BREEDING AGE BULLS

……………………………..$1,300-$2,000 HD
COWS
CORRIENTE COWS
PAIRS………………………………………………………………..$1,700-$2,050 PR
MEDIUM TO HEAVY BREDS…………………………………….$1,400-$1,750 HD
SHORT BREDS……………………………………………………..$1,300-$1,500 HD
OPEN HEIFERS…………………………………………………….$900-$1,375 HD
LONGHORN COWS
PAIRS……………………………………………………………….$1,400 – $2,000  PR
MEDIUM TO HEAVY BREDS…………………………………….$1,200 – $1,500  HD
SHORT BRED………………………………………………………$1,000 – $1,350 HD
OPEN HEIFERS…………………………………………………….$800 – $1,000 HD
**Early Consignments Include:
ROPERS & POTENTIALS:

200 Corriente Heifers R2R (Ready to Rope)
100 Longhorn Corriente X steers & heifers R2R
50 Corriente Longhorn X steers & heifers – Potentials & Ropers
20 Black Corriente heifers R2R
40 Corriente Longhorn X steers
20 #1 Corriente Potential steers & heifers
20 Longhorn steers & heifers R2R
12 Longhorn Potentials

COWS:

100 Corriente & Corriente Longhorn X Cows – Heavy Breds & Pairs 3-4 y/o
20 Longhorn Corriente X Pairs
50 Corrente & Longhorn Cows bred to Hereford & Angus bulls
30 Corriente X Cows
40 #1 Corriente Cows coming with 2nd calf
30 Longhorn X Cows
150-200 Corriente Cows – some bred to beef bulls, some to corriente
50 Bred Corriente heifers
_________________________________________________________________________________________________________________
Hamilton Commission Company
Roping Cattle Sale
Saturday, October 4, 2014
MARKET REPORT
CORRIENTES
STEERS – READY TO ROPE                                        $875-$1,010 HD
HEIFERS – READY TO ROPE                                     $900-$1,035 HD
POTENTIALS – HORNS ½ EAR & LONGER         $800-$1,000 HD
POTENTIALS – HORNS LESS THAN ½ EAR        $500-$825 HD
LONGHORNS
STEERS – READY TO ROPE                                        $850-$950 HD
HEIFERS – READY TO ROPE                                     $875-$975 HD
POTENTIALS – HORNS ½ EAR & LONGER         $500-$810 HD
POTENTIALS – HORNS LESS THAN ½ EAR        $350-$475 HD
BREEDING AGE BULLS 
CORRIENTE BULLS                       $950-$1,400 HD
COWS
PAIRS                                   $1,450-$2,200 PR
HEAVY BREDS                 $1,400-$1,700 HD
MEDIUM BREDS             $1,300-$1,550 HD
SHORT BREDS                 $1,200-$1,400 HD
OPEN HEIFERS               $750-$1,100 HD
Watch and bid online @
www.lmaauctions.com
For more info call Andy 254-784-3181
Like us on facebook!  www.facebook.com/hamiltoncommissioncompany
PREVIOUS SALE RESULTS:
Hamilton Commission Company
Roping Cattle Sale
Saturday, April 5, 2014
MARKET REPORT
CORRIENTES
STEERS – READY TO ROPE                                        $700-$805 HD
HEIFERS – READY TO ROPE                                     $675-$800 HD
POTENTIALS – HORNS ½ EAR & LONGER         $550-$675 HD
POTENTIALS – HORNS LESS THAN ½ EAR        $400-$550 HD
LONGHORNS
STEERS – READY TO ROPE                                        $550-$650 HD
HEIFERS – READY TO ROPE                                     $550-$650 HD
POTENTIALS – HORNS ½ EAR & LONGER         $500-$575 HD
POTENTIALS – HORNS LESS THAN ½ EAR        $350-$475 HD
COWS
PAIRS                                   $950-$1,400 PR
HEAVY BREDS                 $750-$1,150 HD
MEDIUM BREDS             $650-$1,050 HD
OPEN COWS                      $400-$650 HD
Hamilton Commission Company
Roping Cattle Sale
Saturday, October 5th, 2013
MARKET REPORT
CORRIENTES
STEERS – READY TO ROPE                                        $550-$700 HD
HEIFERS – READY TO ROPE                                     $600-$700 HD
POTENTIALS – HORNS ½ EAR & LONGER         $500-$675 HD
POTENTIALS – HORNS LESS THAN ½ EAR        $400-$550 HD
LONGHORNS
STEERS – READY TO ROPE                                        $525-$600 HD
HEIFERS – READY TO ROPE                                     $575-$650 HD
POTENTIALS – HORNS ½ EAR & LONGER         $475-$550 HD
POTENTIALS – HORNS LESS THAN ½ EAR        $325-$475 HD
COWS
PAIRS                                   $750-$1,000 PR
BRED COWS                      $400-$600 HD
OPEN COWS                      $350-$550 HD
ROPING CATTLE SPECIAL SALE
Saturday, April 13, 2013
Head: 1798
CORRIENTES
STEERS – READY TO ROPE                                  $650-$775 HD
HEIFERS – READY TO ROPE                                $550-$700 HD
POTENTIALS – HORNS ½ EAR & LONGER             $500-$625 HD
POTENTIALS – HORNS LESS THAN ½ EAR           $400-$500 HD
LONGHORNS
STEERS – READY TO ROPE                              $550-$650 HD
HEIFERS – READY TO ROPE                            $550-$600 HD
POTENTIALS – HORNS ½ EAR & LONGER         $485-$525 HD
POTENTIALS – HORNS LESS THAN ½ EAR         $340-$450 HD
COWS
CORRIENTE PAIRS W/ CORRIENTE CALVES              $600-$800 PR
CORRIENTE PAIRS W/ BEEF CALVES                         $600-$950 PR
CORRIENTE COWS BRED TO CORRIENTE BULLS         $450-$650 HD
CORRIENTE COWS BRED TO BEEF BULLS                   $550-$700 HD
OPEN COWS                                                                  $350-$550 HD